This page contains ancient drawings of both aliens and ufos. These drawings of ancient aliens are famous, and many of them are featured in museums and are also available to the general public through cave viewings. The depictions of aliens and ufos are obvious, thinking that these pictures and artwork represent other things is possible. However the more realistic idealogy is that these are things that these ancient people saw a long time ago and they represented them through drawings. Often times stories about ancient aliens accompany the drawings, some stories of ancient aliens were handed down generation to generation.
This Ufo Artwork is Dated B.C. (before Christ). For artwork dated A.D (after death of Christ) click here or go farther down this page and click on Page 3.
IMPORTANT: One defining factor in many of these pictures is the Halo around the head of the alien. In my opinion this means that they are Angelic, like Angels, meaning from Heaven, (heaven-the sky-or the heavens).
This is a 7000 year petroglyph discovered in the province of Querato, Mexico in 1966. You can see 4 figures with their arms outstretched below a large oval object radiating what appear to be beams of light.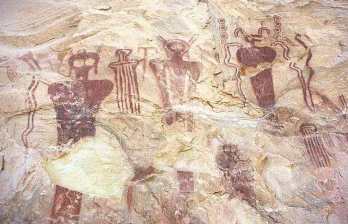 More strange looking figures (aliens) this time from Sego Canyon , Utah. Estimated up to 5,500 BC.
These are illustrations from a book by Lt. Grey. "Journals of Two Expeditions of Discovery in North-West and Western Australia 1837, 1838, & 1839". He led an expedition in the 19th century to some caves near the Glenelg River region of Kimberley, Northern Australia where he came across a series of cave paintings. The beings are called the Wandjina by the Aboriginies who painted them.
More examples of Wandjina. These a images from Kimberley, Australia. Possibly 5,000 years old. Some people believe they may represent ET beings. Notice how the ones in the middle and on the left resemble the head size of grey aliens.
The above photo is of a number of reptilian entities found in Iraq. They are dated at 5000-4500 BC. They are housed in the british museum.
These photos depict figures found in Equador. Notice they appear to be wearing space suits. You can see a comparison photo with an Apollo astronaut.