This web site contains some excellent pictures and photos of aliens from remote history and alien spacecraft from remote history. Ufo sightings and ufo videos and alien abduction. Of course we encourage you to use your own judgement as to the authenticity of these pictures and videos. However as you can imagine creating these pictures of aliens and ufo phenomena is not easily done. I don't see why so many people would go to all the trouble either of inventing sightings, photos, and videos, except for the occasional prankster. We invite you to show these alien and ufo pictures to your friends. We will update this site frequently with new ufo photos and new alien photographs from our remote history.
15th Century
Rome
This picture shows a UFO sighting over Hamburg, Germany The objects were described as 'two glowing wheels' - November 4, 1697 - Wheels - Spoked Wheels.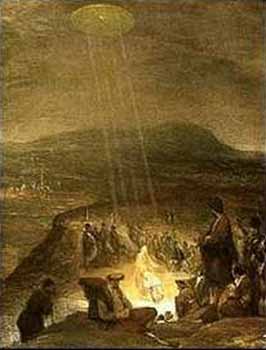 A disk shaped object is shining beams of light down on John the Baptist and Jesus - Fitzwilliam Musuem, Cambridge, England - Painted in 1710 by Flemish artist Aert De Gelder. It depicts a classic, hovering, silvery, saucer shaped UFO shining beams of light down on John the Baptist and Jesus. What could have inspired the artist to combine these two subjects?
Frescos throughout Europe which reveal the appearance of space ships in the skies including this painting of 'The Crucifixion' - painted in 1350. It seems to depict a small human looking man looking over his shoulder - at another UFO as if in pursuit - as he flies across the sky in what is clearly a space ship. The leading craft is decorated with two twinkling stars, one reminiscent of national insignia on modern aircraft. This paintng hangs above the altar at the Visoki Decani Monestary in Kosovo, Yugoslavia.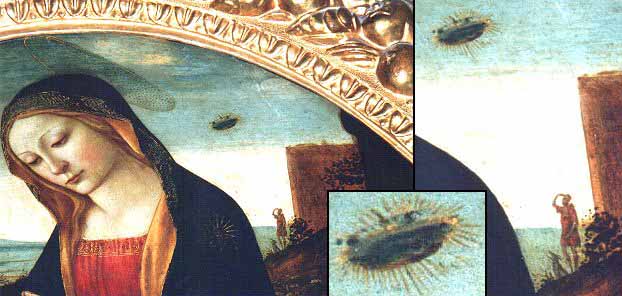 This painting is called "The Madonna with Saint Giovannino". It was painted in the 15th century by Domenico Ghirlandaio (1449-1494) and hangs as part of the Loeser collection in the Palazzo Vecchio. Above Mary's right shoulder is a disk shaped object. Below is a blow up of this section and a man and his dog can clearly be seen looking up at the object.
The painting above was done by Carlo Crivelli (1430-1495) and is called "The Annunciation with Saint Emidius" (1486) and hangs in the National Gallery, London. A disk shaped object is shining a pencil beam of light down into Mary's crown chakra. A blow up of the object is next to the painting.